16 Mar 2023
Lancaster Insurance Pride of Ownership Spring Finalists Revealed – Who Will Take The Trophy?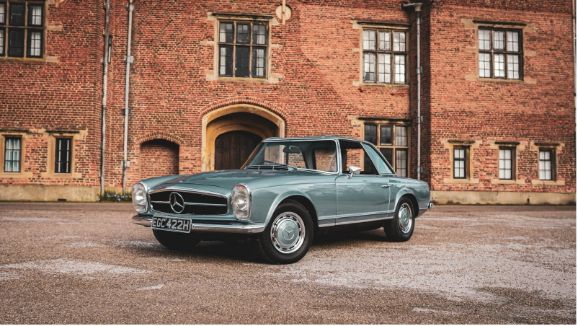 A fantastic mix of 20 stunning classic cars have been selected for the Spring final of the Lancaster Insurance Pride of Ownership competition. Now it is up to the visitors at the Practical Classics Classic Car & Restoration Show, with discovery+, to decide the winner.
Voting will take place from the 24-26 March, with Wheeler Dealers' Mike Brewer announcing the winner on Sunday afternoon – but who will be taking home the trophy?
Will it be Philip Welton in his 1989 Audi Quattro? Philip bought the car from Silverstone Auctions in 2019 after seeing it in a showroom some 30 years previously when it was brand new. The Quattro is completely original with 65,000 miles on the clock and 'turns heads wherever it goes' according to Philip.
There's strong competition though from five cars all showing the range of the blue oval. Martin Short's limited edition 1983 Ford Capri Cabaret has had a very eventful history as its lucky to even be on the road.
He will be joined by fellow Capri owner Rav Dhuna in his 1973 model. Rav purchased the car in 2013 as it was 'the car I always promised myself' thinking it was in need of a light restoration. Fast forward, and every nut, bolt, part has been stripped and the car has undergone a complete transformation.
Nathan Mills' 1977 Escort Sport and Tom Pickworth's 1985 Escort SE are also in the running alongside Ben Crosby's 2000 Racing Puma.
Alex Mills, Nathan's brother, is bringing his 1998 Rover Mini Cooper – despite being too young to drive it! At 15-years-old, Alex is the youngest ever finalist and certainly the first owner to not be legally allowed to drive the car to the show!
Andrew Evanson, Senior Operations Manager of Lancaster Insurance, sponsors of the Pride of Ownership, said: "As always there's a fantastic and diverse range of classics on display. Throughout the halls, you are guaranteed to hear people discussing their favourites and I can't wait to see who is crowned the winner!"
One person who is no stranger to the Pride of Ownership final is Paul Clappison, who previously won the Spring competition with his 1972 MG B in 2018 and saw his son Jake win the Autumn final in 2021 with the 1979 Triumph Spitfire. Paul returns to the NEC with his 1989 Porsche 944, the model with the rare 2.7 litre engine, which he purchased last year.
Other finalists include a trio of stunning Mercedes Benz. The first is the modified 1987 190E 2.3-16 with a Cosworth engine belonging to Jaswant Duley. He faces Mark Dwyer with his beautifully restored 1965 220 Sb.
But Mark has stiff competition as his wife Nikki Dino also has her 1969 280 SL Pagoda in the final – making it the first time a married couple have competed against each other. At least they don't have to share the car ride home!
There's a pair of VW Golfs vying for your votes as Dave Watson's 1980 GTi S1 faces off with David Massey's 1983 Mk1 model.
They will be joined by Paul Edwards' 1997 Toyota Paseo, Richard Weaver's freshly restored 1981 MGB LE Roadster, Neil Allen's 1983 Austin Metro, Terry Oldham's 1996 Mazda MX-5 Gleneagles, and Steve Poulton's 1985 BMW 525e.
The winner and two runners up all receive trophies and a year's free car insurance from Lancaster Insurance up to the value of £250 (T&C apply). The overall winner will also be offered the chance to display their car at the next event held by the organisers – as well as the obvious bragging rights!