18 May 2022
Introducing our new creative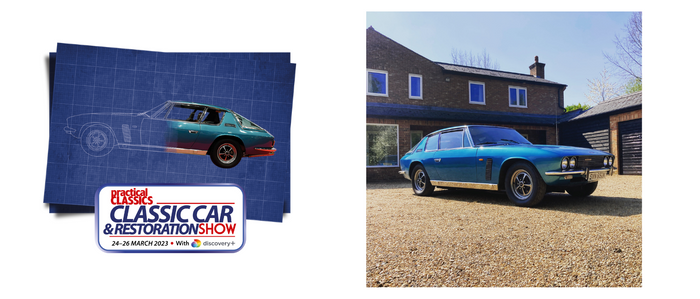 We are delighted that we have chosen this beautiful Jensen to be the featured car in our 2023 creative.
Regular readers of Practical Classics will be aware that editor Danny Hopkins been slowly but surely restoring this Jensen Interceptor II over the past 11 years (more 'slowly' than 'surely' to be honest).
It has soaked up a huge amount of time, effort and money – and he hasn't regretted a single second of it. He came across the car by chance... visiting a reader with a shed full of cars.
The 'Ceptor had no engine or back axle – but Danny did a deal and dragged the car home to PC Towers. Since then he has completely rebuilt the car from the ground up. A huge effort using the help of numerous specialists. Now, after a winter with Griffin Classics (griffinclassics.com) in Calne, the Jensen is at last ready to use.
THE STORY OF HOF 1
According to the extraordinary publication Jensen – the Chassis Data by Richard Calver, this car (chassis No. 123 4229) was registered as HOF 1 on August 6, 1971 and is the 16th car from the end of RHD Series II production. HOF 1 because its first owner was Sir Hugh Fraser of House of Fraser fame... hence the HOF.
1971 JENSEN INTERCEPTOR II
ENGINE 6313cc/V8/OHV
POWER 330bhp@5000rpm
TORQUE 425lb ft@2800rpm
GEARBOX 3-speed automatic
0-60MPH 7.4sec
TOP SPEED 136mph
FUEL ECONOMY14.4mpg