15 Feb 2023
HAPPY CAMPERS: CREATIVE HOLIDAY SOLUTIONS FROM CLASSIC CAR AUCTIONS AS FEATURED ON WHEELER DEALERS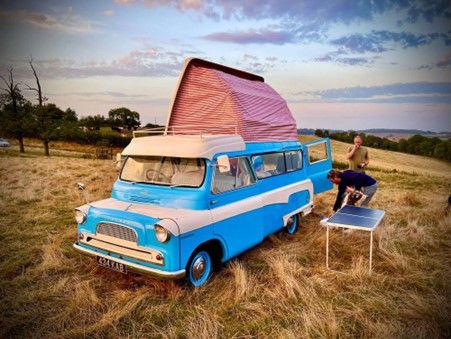 HAPPY CAMPERS: CREATIVE HOLIDAY SOLUTIONS FROM CLASSIC CAR AUCTIONS AS FEATURED ON WHEELER DEALERS
If you've never felt the call of the open road and the Gypsy life you've missed out big time. I was lucky enough to have six months on the road touring Europe this way and the memories have lasted a lifetime. For the best cost saving fun holiday you will ever experience buying a camper takes some beating.
Imagine parking up in the wild Pyrenees, or on a headland commanding the world's biggest waves at Nazare in Portugal, or on a beach near Venice, or a hill overlooking breath-taking Lake Garda and Como in Italy – and these five-star views all yours for peanuts.
If the idea appeals to you then Classic Car Auctions might have just the vehicle to see this dream turn into a reality- coming for sale at the Practical Classics Classic Car and Restoration Show Sale on 24th – 26th March.
This stunning camper, affectionately known as 'Colin The Camper' with its Retro-styling with a modern twist, refinished externally in eye-catching Blue over White was restored in 2021 by Mike Brewer and Elvis on 'Wheeler Dealers' . Upgraded with a 2.0-litre Pinto engine and automatic gearbox its bodywork has been fully refurbished and the interior refitted with new cabinets and accessories. It is guided at £14,000 - £18,000.
Charles Smalley who consigned the vehicle for CCA, says: "Fully retrimmed including a new roof canopy, the restoration was fully documented on the TV show and can still be seen on social media and You Tube. Its as ideal little camper historic events, shows and general fun and enjoyment, perhaps even as an air B&B."
https://www.youtube.com/watch?v=rLxSxxMnQwg.
This camper is just one of many great vehicles coming to Auction as CCA's first sale of 2023 at the Practical Classics Classic Car and Restoration Show 24th - 26th March at the NEC, Birmingham, B40 1NT. All lots are available to view online where you can also register to bid in person, online or via commission www.classiccarauctions.co.uk. If you have a classic that you are looking to sell, why not take the opportunity to sell your car with CCA in a LIVE auction at the show – a show which attracts an audience of 1000s of buyers. Get in touch with Classic Car Auctions now, the official auction partner now - Tel: 01926 801088 or enquiries@classiccarauctions.co.uk.
CCA is the sister company of Silverstone Auctions and caters for 'Everyman Classics'.