17 Jan 2023
capri280 Group European Tour 2023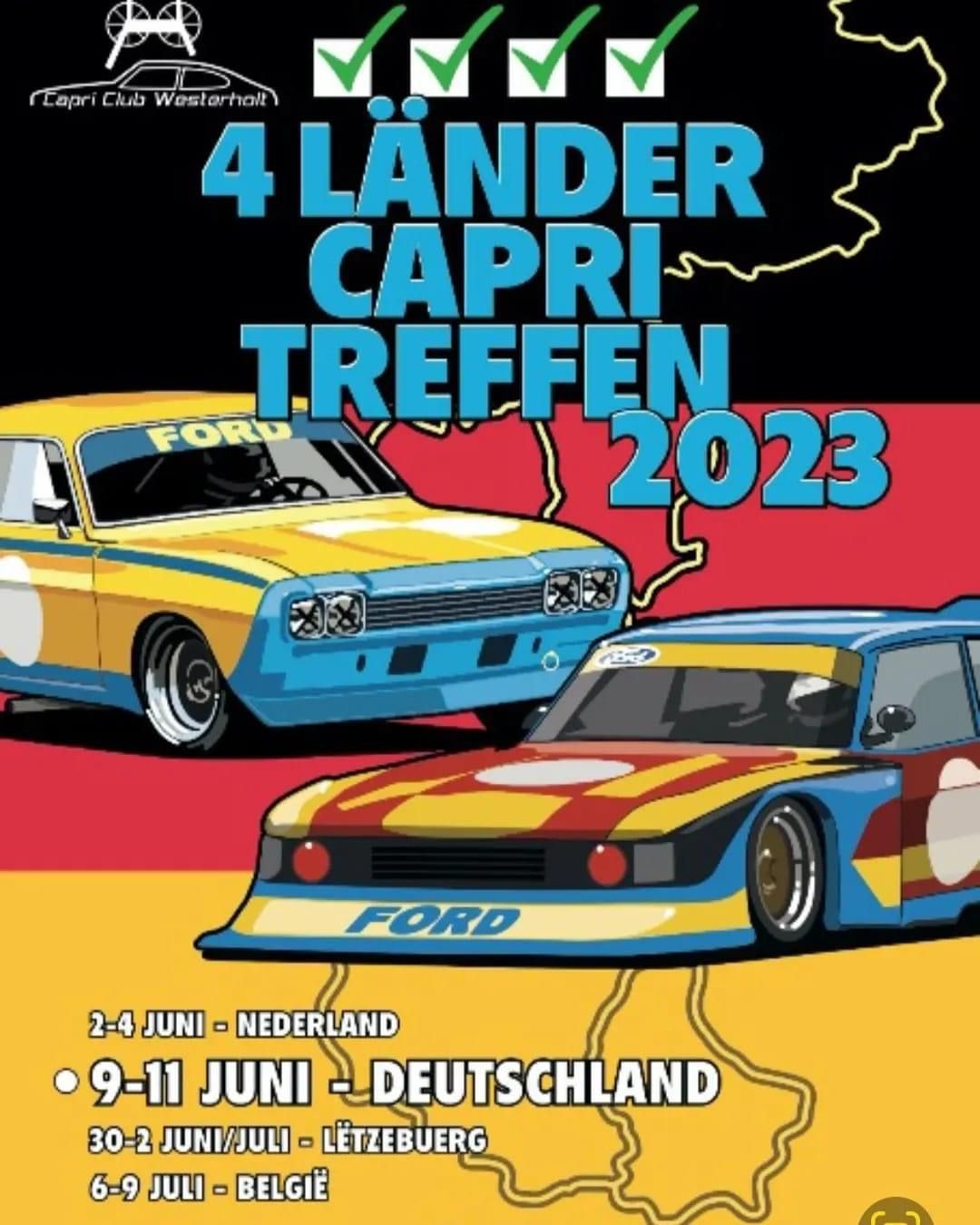 capri280 Group
capri280 Group The Proactive Club for the capri280
2023 sees the capri280 Group enter its sixth year of our efforts to be the go to club for Ford's Final Limited Edition model of the Ford Capri.
In February 1987 came the I announcement by Ford Motor Company of the Final Limited Edition model of their Capri!

Ford ended production of nearly 2 million Capri cars during December 1986. 18 years production of the Capri ended on 19th December with a run of 1038 capri280 cars. Originally it was intended to produce just 500 of this tribute to the popular coupe called Capri 500. Plans changed and the car became capri280 all painted Brooklands green metallic with a red and white coach line. Full leather Raven Connolly Recaro interior and 15 inch seven spoke alloy wheels with Pirelli P7 low 50 profile tyres completed the package.
All were imported to the UK from Ford's Niehl factory in Köln, Germany to be sold only in the UK.
capri280 Group celebrated this landmark year throughout 2022 at all of our events. We hosted a special celebratory event at the British Motor Museum at Gaydon in Warwickshire over the weekend of 16/17th July. We were joined by members of European Capri clubs from Belgium. We also had the largest number of the capri280 cars attend the event in recent times!
December 17th 2017 saw the formation of the capri280 Group originally as a focal point for owners current past, present and future before long it became an actual club. We have come a long way and achieved a lot during this time.
capri280 Group is the only club for the capri280 model catering for all owners needs. Through the Group it is possible to buy and sell a capri280, purchase a wide range of Regalia and original Ford parts, Classic Car Insurance, Car covers for indoor and outdoor use, event tickets all at members discounted prices. We also have a social events programme attending UK and European Capri shows plus UK Classic events.
As we progress more members benefits are being added to enable our cars to be kept in top condition to be enjoyed by their owners and the public too.
Please come along and visit our stand at the NEC Classic Car Show. We are in Hall 4 Stand number 558 If not a member you can join up. You can also purchase items of Regalia and spares from the growing range offerred by the Group. Or you can just talk Capri!